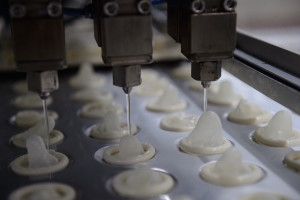 Shandong Geamay  Latex Technology Co.,Ltd, A professional condom manufacturer located at Jining city Shandong province, China. successfully produced polyurethane condom at 2015, total 5 types products: 001mm male condom; 002mm male condom; 003mm male and female condom, 0.03mm latex condom, approved by ISO/CE from TUV, FDA 510K still in the process. Pleasure to custom produce at clients own brand, welcome inquiry us!
Polyurethane condoms are type of male condoms that are made from polyurethane material — which is a type of thin, clear plastic. This birth control method has FDA-approval as an effective way to prevent pregnancy as well as protecting you from sexually transmitted diseases. Polyurethane condoms are usually thinner, stronger and not as tight as latex condoms. Because of this, they can help to increase sensitivity during sex. Many men say that they like the feel and appearance of polyurethane condoms more than latex condom.
Aside from the PU condom, soft thin latex condom is Geamay latex's another big advantage in production, which thickness at 0.04-0.05mm offer very soft and skin feeling for consumers, just like wear nothing, this soft thin latex condom have more market share than PU condom. Some popular condom brands prefer to produce their thin condom at our company.
If you has own condom brand and already has good reputation in the industry, we will pleasure to custom produce for you. Because polyurethane goods belong to luxury goods compare to latex condom, which with super thin quality and expensive price, so please make sure your consumer can afford it, so we are pleasure choose good reputation condom brand to cooperate, welcome contact our sales team, they will serve you directly.